Main content
"Tolerance has come home to us"
Volunteering with energy, empathy and enthusiasm: Ingrid Reinhart, head of the Grünwald Volunteer Group, talks about the activities carried out and successes achieved in their work with refugees.
German lessons, helping with visits to the doctor and the authorities, helping in the search for a job and an apartment, language-learning cafés, games evenings, cooking groups, football, hockey, swimming, volleyball, walking and cycling tours: the activities of the Grünwald Volunteer Group in the administrative district of Munich speak for themselves. Ingrid Reinhart is head of the group. Their mission: social harmony. In other words: brotherly love.
Volunteers should not do more than they can manage
The volunteer group was founded in March 2013 and now has over 200 members – volunteers with energy, empathy and loads of enthusiasm. Ingrid Reinhart more than anyone. She is a nursery nurse by profession, just past retirement age, and works two days a week in the community library. She is also a local politician on the municipal council, so volunteering is a matter of course for her. Helping refugees is her second voluntary post – at busy times it can mean she works more than a 40-hour week. "But it doesn't have to be anything like as much", says Ingrid Reinhart. "If a volunteer can only help once a month for two hours then that is also perfectly fine."
Child's play: integrating children
Ingrid Reinhart is proud of everything the Grünwald Volunteer Group has achieved over the last few years with the help of the local evangelical community. There was still very little infrastructure for refugees in Grünwald in 2013. "Everything now runs really well!" Especially nurseries, schools and other childcare facilities have adapted really well to the new situation. The integration of children is literally child's play and practically takes care of itself. "Small children can speak German within two months. I find that fantastic!"
Jobs ranging from camel keeper to business consultant
But there has also been great success for older refugees in Grünwald. "Many of our refugees can now speak a good level of German and have jobs as gardeners, bakers, cooks, business consultants, hamburger sellers or grooms in stables", says Ingrid Reinhart. One refugee is even a camel keeper on a local camel ranch!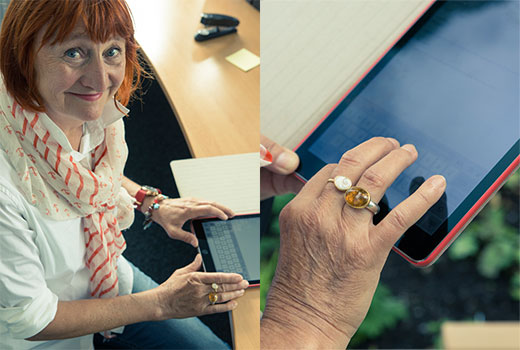 "I want to get the message across that refugees should not be seen as a threat but rather as people."
Openly facing up to people's fears
There was also fear to be found here and there. Some women were afraid of the young men from Africa who are housed in the air dome outside of Grünwald and who gathered for a while in small groups in the centre of the town. To cut a long story short: their worries are unfounded according to the local police – there have been no assaults since the refugee shelter opened. The groups of young refugees were meeting so frequently at a Wi-Fi hotspot because the Internet connection at the air dome on the edge of the woods was so bad. Free Internet is also usually the only connection that they have to their families.
Seeing refugees as people, not as a threat
Ingrid Reinhart still takes these fears seriously. "Communicating openly is really important", she says. She is really pleased that many people were able to overcome their scepticism of foreigners. She has been able to get the message across that refugees should not be seen as a threat, but as people.
Addendum:
The air dome has now been dismantled. The volunteer group is continuing to look after those refugees housed in Grünwald.