Main content
Integration? This is how it's done!
Marianne Penn founded a school especially for refugees in the Upper Bavarian town of Trostberg together with other volunteers. Alongside German, other important subjects can be found on the curriculum.
The interview was conducted in 2016.
Marianne Penn, born in 1957, is a remedial support teacher, member of the town and district council in Trostberg and almost literally bursting with energy. She has a beaming smile and an effervescent personality. Her mission: to provide help where it is needed. Her vision: successful integration in Bavaria. Marianne Penn founded a bridging school for young adult refugees from scratch together with other dedicated volunteers in autumn 2015. In two disused mobile classrooms from the Trostberg Realschule secondary school in the Upper Bavarian District of Traunstein, 48 volunteer teachers provide lessons to around 70 refugees.
Providing education and building bridges
The young men from Trostberg and surrounding municipalities attend the bridging school with their satchels and bicycles every day. This flagship project provides the refugees with much more than just education or a means of filling the time until they can find their first proper job. The bridging school builds bridges in the truest sense of the word. Bridges between students and teachers, between refugees and locals and between the Bavarian culture and those found in other countries. Integration? This is how it's done!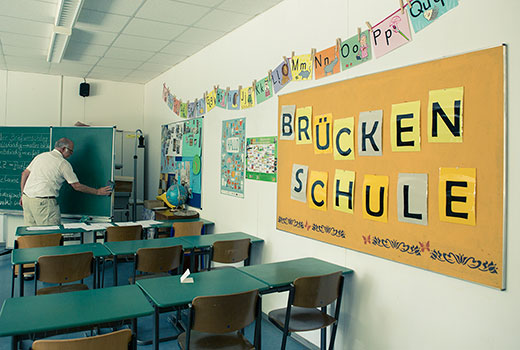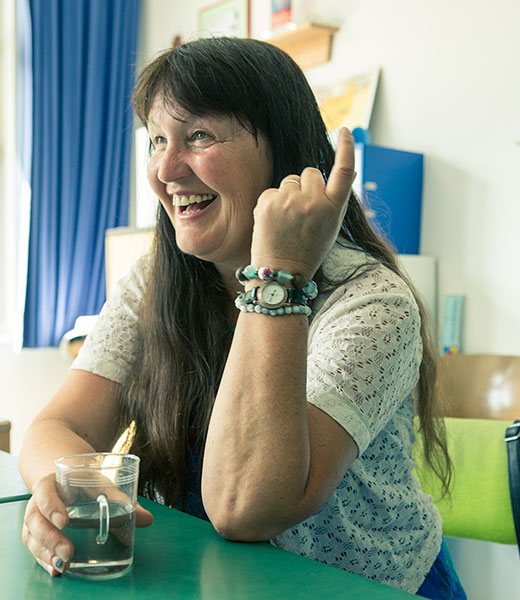 Ms Penn, why did you found the bridging school?

A lot of refugees came to Germany and Bavaria very quickly in 2015. Initially, there were not enough German courses available straight away for these people. We filled this gap. We didn't want the young people to get demotivated by waiting around and doing nothing.

Who teaches the refugees at the bridging school?

Every course is taught by at least one proper teacher and additional assistants – on a voluntary basis, naturally. The teachers provide these courses in their spare time, while some of them are already retired. In addition, we have both a Protestant minister and a Catholic priest in the team. They teach the young people about ethics and inform them about the values and standards according to which life in Bavaria functions.

German and ethics. What other subjects are on the curriculum?

We also teach mathematics, local history and general studies, social studies and geography – a full range of courses actually. And we even offer a computer course. We want to prepare our students to acquire a school-leaving certificate and make them ready for the job market.

"We are so lucky to have been born in Germany, and in beautiful Bavaria in particular. It is now time to share this luck."

The students come from all manner of countries and have totally different levels of prior knowledge. Does this not make the lessons extremely difficult?

It is true that the educational backgrounds are extremely varied. All levels are represented from illiterate people through to secondary-school leavers. It is admittedly a huge task, but everyone is making great progress.

Your students are adult men. Is it not difficult for them to go back and sit behind a school desk?

Naturally, it requires some adjustment, especially for those who were not able to attend school in their homeland. But our young men are aware of how important it is for them to learn German. They want to work and stand on their own two feet.

The founders of the Trostberg Bridging School won the "Bavarian Innovation Prize for Volunteering" in 2016. Has this given you even more motivation?

We are of course delighted to receive this nice award. But what really motivates us is working together with people. We all have lots of fun doing it. The sense of community between our refugees and local people is continuously improving. We can achieve so much together.

The phrase "refugee crisis" never passes your lips. You speak of challenges. Why do you volunteer personally?

I view the influx of refugees into Germany as the main challenge of our time. We are so lucky to have been born in Germany, and in beautiful Bavaria in particular. Things have constantly got better and better for our generation! We have not had to live through war or experience poverty. It is now time to share this luck.