Main content
A family caught between war and peace
Ahmad Kabawa from Aleppo hopes to soon speak perfect German and practises every day. His favourite book: German fairy tales. His dream: to study in Germany.
"German fairy tales". The book proudly stands on Ahmad Kabawa's shelf at the refugee shelter in Siegsdorf in the district of Traunstein. The 21-year-old from Aleppo has in truth long outgrown fairy tales. But Ahmad Kabawa nevertheless likes the stories. They help him to learn German. And perhaps they remind him of his old homeland – Syria before the war.
Escaping from Aleppo
The story from the beginning: Ahmad Kabawa and his father fled from Syria in summer 2015. They travelled for weeks by foot, on a bus, in a car and on a small boat. Their journey took them via the Balkan route across half of Europe – until they finally arrived in the Bavarian barracks in Munich on 24 August 2015. Their belongings: a rucksack and a carrier bag. Ahmad Kabawa had to throw his other bag overboard at sea. There were too many people on the boat and too little space.
A new home in a former retirement home
Father and son were quickly recognised as refugees from the Syrian war and initially received a temporary residence permit for three years. Since December 2015, they have lived in a refugee shelter in a former retirement home. They have a two-bed room with their own shower and toilet – a private sphere measuring ten square metres. The shared kitchen is located on the same corridor. Other men are currently cooking and the food smells delicious.
Priority number one: learn German
Ahmad Kabawa spends most of the day learning German. He reads his book of fairy tales or borrows reading materials from the library, completes assignments in his exercise book and watches films in German on the Internet. His favourites are Harry Potter or Tom & Jerry. This dedication has paid off and his German is now really good. He talks ever more fluently about his plans and dreams. Ahmad Kabawa hopes that his school-leaving certificate from Syria will be recognised in Germany. He desperately wants to work – maybe in a computer shop as he used to in Aleppo – and find his own apartment for him and his father. Yet it is not easy. Ahmad Kabawa dreams of studying in Munich and becoming an electrical engineer. He knows that he has got what it takes.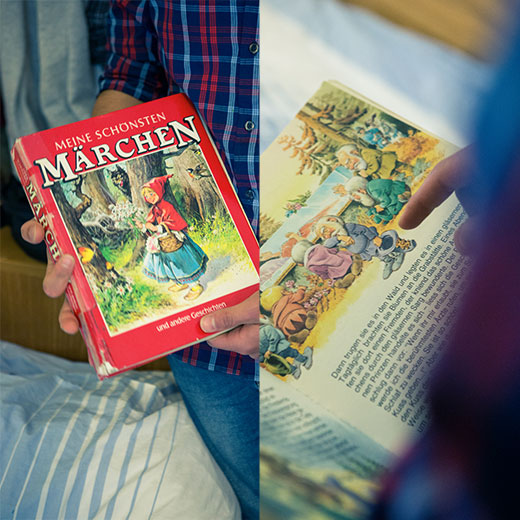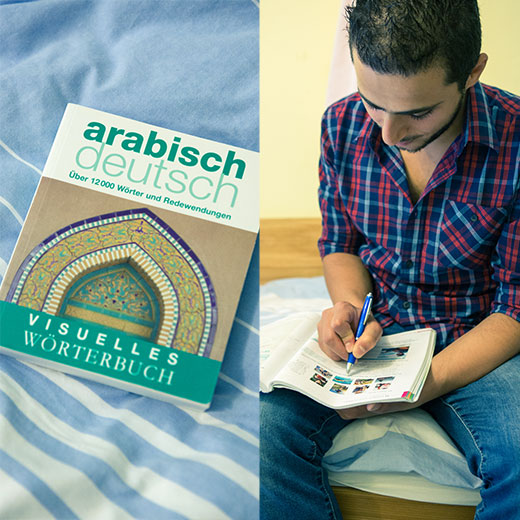 "I desperately want to quickly find work. Maybe later I can study in Munich and become an electrical engineer. That is my dream."
Concerns about his mother and siblings
"The people in Bavaria have given us a friendly welcome and been very helpful", he says. "I have found a new home here." Ahmad Kabawa and his father are safe. His mother Faiza, sister Batoul (16) and brother Mohammed (11) are not. They have been waiting in Aleppo for a year in the hope of joining the rest of their family. The five members of the family couldn't afford to flee together. Moreover, Ahmad Kabawa's father had hoped to spare his wife and younger children from the hardship. He now regrets his decision, even if there was no real alternative. The family have now yearned to be reunited for around a year.
Yet the circumstances are difficult: relatives of recognised refugees can only submit their visa applications to German embassies in neighbouring countries due to the war. The applications for Ahmad Kabawa's family are being processed in Beirut.
Children risk their lives going to school in Aleppo
"Our house was bombed", reports Ahmad Kabawa. His mother and siblings now live in the cellar. Whether it is to buy food or go to school – every step outside places their lives at risk. Ahmad Kabawa and his father are almost sick with fear. They call home or write text messages as often as the poor mobile phone network allows. A smartphone is their only connection. Ahmad Kabawa's father has even learnt to cook thanks to the mobile phone: he prepares recipes in the shared kitchen that have been sent to him by his wife on the phone. How he would love to finally let her taste them.
Addendum:
Ahmad now lives with his father in their own apartment. His mother and siblings are still in Aleppo.